A Butterfly for God - Video
I did this mural as a gift...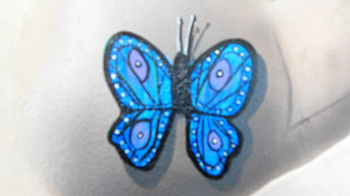 ...to a charity shop. The proprietor, having seen some of my other work, asked me if I would like display to the public and what you see here is the end result.  The mural is a depiction of the Holy trinity, by which I mean, God said he would pour out His Holy Spirit unto all flesh. Of course the only way to receive that gift is to accept Jesus as your saviour, hence the cross where He died for our sins.   The butterflies were actually a thought that occurred to me during the sketching out, whereby the pouring out of God's love would resemble heart splashes at the bottom of the water falls which spread out into butterflies.  The butterflies are good because of the symbolic quality affiliated with them.  From caterpillar to butterfly.  From sinner to saved.  Something creepy to something beautiful.
Since I count this work of art a blessing from God it is only right to say thank you to Him.  I did this by placing a butterfly on the finger of God.  I know He likes it and I hope you do too.
God Bless, Jesus Loves You!!!
The music is a remix of "When the Saints Go Marching In", by Ufecki & Leningrad Dixieland-Adapted Records 
I thought it was a great remix, so I remixed it some more just for fun.
Enjoy.  I do have permission but, should the anyone have a copyright issue, they may refer to the fair use policy of copyright and look under "News Reporting".  I am spreading the good news of Jesus Christ my saviour.  
It is at the end of this video.  Jesus has saved me from drug addiction, alcoholism, slavery to the flesh, schizophrenia, occultism, and crime. Saved and transformed.  That's the good news.
Please note, all photos, text and music are used for training and educational purposes only.  
Copyright Disclaimer Under Section 107 of the Copyright Act 1976, allowance is made for "fair use" for purposes such as criticism, comment, news reporting, teaching, scholarship, and research. Fair use is a use permitted by copyright statute that might otherwise be infringing. Non-profit, educational or personal use tips the balance in favour of fair use.