For a friend of mine - video
"For a Friend of mine", is a...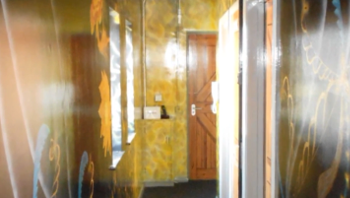 ...video compilation of some of t
Anne Brewitt is a lovely lady who...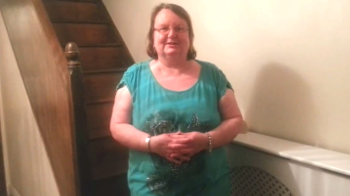 ...is widowed with 4 children and also suffers from M.E. ( Myalgic Encephalomyelitis ) as does one of her children.  This  results in a type of fatigue that people simply cannot relate to as it is literally debilitating.  Anne continues on by the grace of God and also is undertaking extensive renovations to the family home.  My part in these renovations were to re-decorate the staircase, which led onto the door frames and upper landing floor.  We were both very pleased with the result.  Anne is the first participant, of what I hope to be many more to come, whereby people will allow me to incorporate their testimony for God into the works being carried out in their homes or whatever the case may be.  This carries on with the theme I have been using all along with regards to the changing power of Jesus Christ.  The inside of a persons home being likened to the inside of a persons heart.  Before Jesus, the home, heart, is a mess but after Jesus the home, heart is cleaned up and new.  Thanks for watching.>
God Bless
he decorating and artworks works I had completed to that date.  Throughout  my 3 year painting and decorating course to work undertaken in the first couple years as the owner/operator of Kingfisher Decor.  My friend is of course Jesus Christ, of whom none of the works displayed in this video could or would have been completed.  It is dedicated to him as a thank you. 
The sermon throughout the video is from the late Rev. S.M. Lockridge.  It is a sermon I first heard in St. Paul's church where I was baptised in Skegness.  I found the sermon to be very uplifting and very humble at the same time for words simply fail to adequately describe Gods love for us.
When I say "I live for Jesus" it means I get though everyday because of Jesus.  "I stay alive" because of Jesus, "I don't give up", because of Jesus.  God himself keeps me going.  If you have ever had a best friend who was there for you every time you needed picking up, then you'll will understand.  He's as real as I am.
The music is a mix of heavy metal guitar and a galic piece called "Promentory" - The Gael -  available to buy on iTunes.
God Bless and thanks for watching.
Jesus loves you.
Please note, all photos, text and music are used for training and educational purposes only.  
Copyright Disclaimer Under Section 107 of the Copyright Act 1976, allowance is made for "fair use" for purposes such as criticism, comment, news reporting, teaching, scholarship, and research. Fair use is a use permitted by copyright statute that might otherwise be infringing. Non-profit, educational or personal use tips the balance in favour of fair use.