John's Spareroom - Video
This mural was a very special gift.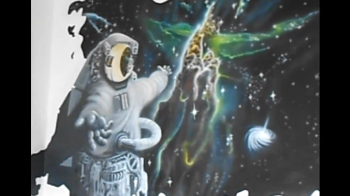 The parents of the owner wished to repaint the bedroom for their son as a birthday present.  I then asked if I could paint a mural on one of the walls to which I was given permission.  After praying about what to paint, God showed me what to do.  What I was shown were pictures of galaxies on Google images and finally an astronaut. I then merged it all together to get the final piece.  Before actually going ahead with the picture I talked to the mother with regards to what types of things her son would like.  It was then that she disclosed to me that when her son was a little boy he wanted to be an astronaut but because of his poor eyesight, he wouldn't be able to pursue his dream. I hadn't revealed to her what I was going to do yet.  This not only strengthened my faith but I was able to share this experience with the family. Now I share this experience with you.
Should anyone have a Copyright issue they may refer to the Fair Use.   Under Fair Use, provision is made for "News Reporting".  I am spreading the good news of Jesus Christ.  It can be seen at the end of this video.  Saved and transformed.  That's the news.  Also, the video is a metaphor of what it is to let Jesus in to your life.  The rooms transformation is relative to my own.  Let Jesus in and Watch the transformation.  That's the good news.
Music - God of Wonders - Various Artists
Please note, all photos, text and music are used for training and educational purposes only.  
Copyright Disclaimer Under Section 107 of the Copyright Act 1976, allowance is made for "fair use" for purposes such as criticism, comment, news reporting, teaching, scholarship, and research. Fair use is a use permitted by copyright statute that might otherwise be infringing. Non-profit, educational or personal use tips the balance in favour of fair use.