Refiners Fire - Video
This is my first air brush project.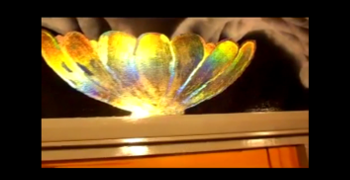 Jesus Christ is my Inspiration.  In Jeremiah 23 : 29 it is written that the word of the Lord God is like a fire.  So it is with this in mind that we must enter into His presence purified.  The only way to do this is through His word.  His word become flesh in the body of Jesus Christ and He washes us clean from our sins.  From there as you move closer to Him you speak with Him, or pray to Him, and as He states in Revelations 5 : 8, The prayers of the Saints are like an incense which are offered up to God in Golden Bowls.  
And there you have it.  Through the refiners fire, the prayers, sweet as incense, are represented by the fire flowers, which are then carried above into the Golden Bowls for the Lord God Almighty to care for.  See how much He loves us.  He likens our voices as being as sweet as incense to Him. As a loving Father God would, who speaks with His children.   He's adorable.  Speak to Him.  Jesus loves you.
God Bless
Permission has been granted to use the music heard in this video.
Should anyone have a copyright issue, they may refer to the fair use policy of copyright and look under "News Reporting".  I am spreading the good news of Jesus Christ my saviour.  I use the before and after of my art work as a metaphor of my life before and after Jesus. Let Jesus in and watch the saving transformation. Jesus has saved me from drug addiction, alcoholism, slavery to the flesh, schizophrenia, occultism, and crime.  
That's good news.
Please note, all photos, text and music are used for training and educational purposes only.  
Copyright Disclaimer Under Section 107 of the Copyright Act 1976, allowance is made for "fair use" for purposes such as criticism, comment, news reporting, teaching, scholarship, and research. Fair use is a use permitted by copyright statute that might otherwise be infringing. Non-profit, educational or personal use tips the balance in favour of fair use.