The primary system used is the British Standard 4800 Series of paint colours for building purposes.
The BS 4800 series, as it is more widely known, is a framework made up of alpha numeric digits.  Under the scheme, each colour is given a code so it is easily identified and this code consists of three parts.  The three parts are called Hue, Greyness and Weight.
The Hue ( colour ), the first part of the colour code, is an even number such as 08.  There are 12 main hues, numbered from 02 to 24 ( see chart below ), plus the neutrals.  There is an extra set of numbers, 00, which represent the neutrals black and white.  These numbers run in horizontal sequences beneath the structure.
The Greyness is the second part of the code, and represents the amount of greyness in one colour compared to another.  Greyness is represented by letters A to E, with A having the majority and E having zero at all.
The weight is the third part of the code.  This was added as an afterthought, because it was found that the yellow hues looked weighty in correlation to the other colours.  To conquer this, the value, ( Value = lightness or greyness ), of the yellowish colours was elevated with the weight becoming more uniform  The weight of the hue is given in pairs of numbers ranging from 01 to 56, as seen in the table below.
With each of the 5 greyness ranges, the groups of colour have a value to them which proceeds from a high value to a low value. 
A greyness = 01 - 13
B greyness = 15 - 29
C greyness = 31 - 40
D greyness = 43 - 45
E greyness = 49 - 56
So, for example, a lighter yellow in the c range would read
10 E 50
while a deeper pure yellow in the D range would read 
10 D 43.
The BS 4800 system was developed so that the right quantity of colours would be created for building use, in order to meet financial trends and build an association between colour and building materials.  The system also met design and technical needs and made it easier to notice items.
There are 100 colours within the BS 4800 skeleton, counting the neutrals, black and white.  Of the standard range of 100 colours, 32 are classed under the "basic" selection, which includes black and white and  should always be available from stock.  There are two "additional" sections: category G, which relates to oil based finishes, and M, which relates to emulsions.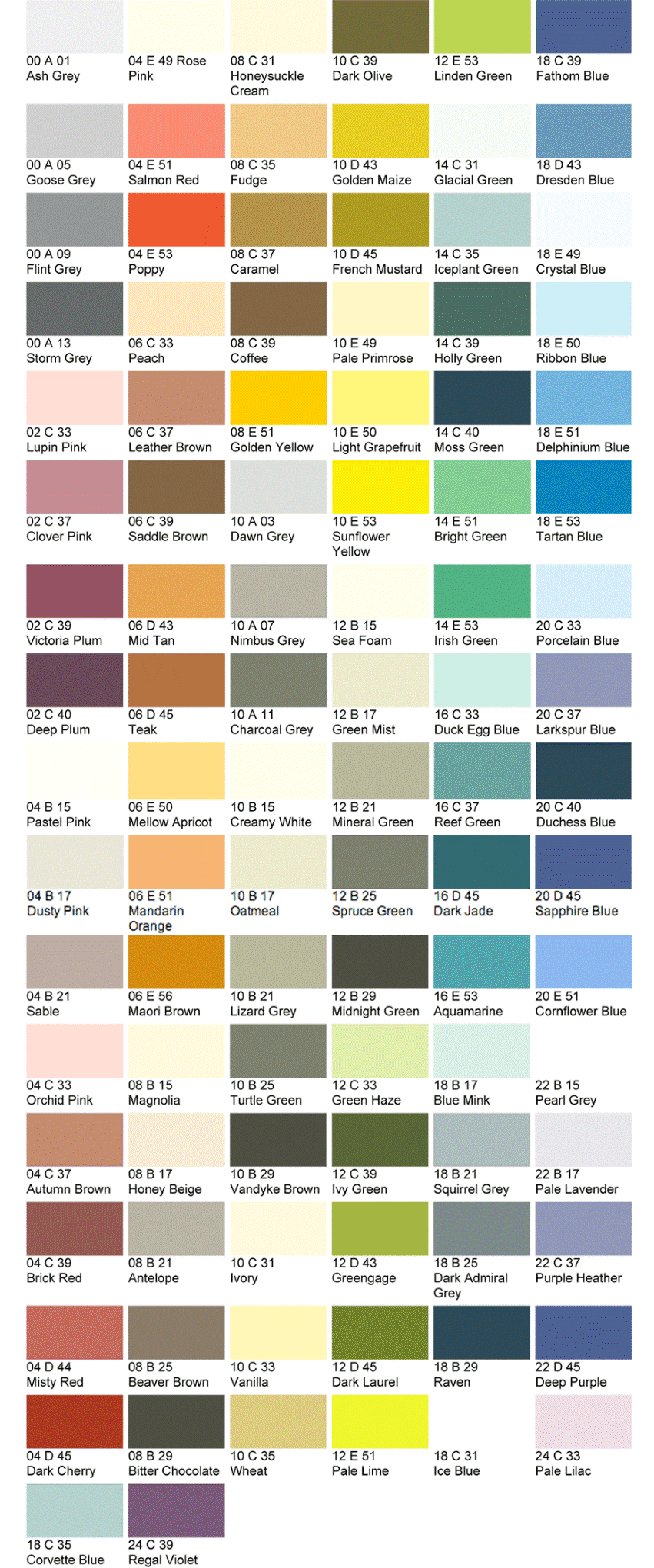 Please note, all photos and text are used for training and educational purposes only.  
Copyright Disclaimer Under Section 107 of the Copyright Act 1976, allowance is made for "fair use" for purposes such as criticism, comment, news reporting, teaching, scholarship, and research. Fair use is a use permitted by copyright statute that might otherwise be infringing. Non-profit, educational or personal use tips the balance in favour of fair use.