Mum's painting - Video
This painting is a gift for mum.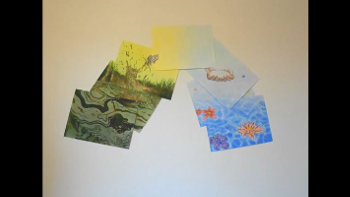 She once said to me she isn't a Christian because she hasn't had the same "personal" experience of Jesus that I have had.  To that end I have heard for years how men can never know the joy of bearing a child. 
Since that is the case then surely if a woman has such a great love for her child then it is obvious to me that if that child were to be saved from all the terrible ways he used to walk in, terrible ways the no one on earth but Jesus could stop,  then it couldn't get any more personal for a mother. Jesus loves you mum.  See with your heart and let him in.  The flowers are butterflowers and the eyes are for seeing, not scaring away predators like a butterflies. 
Please accept these butter-flowers from Jesus and I. God Bless.
Copyright permission has been granted from the music recording artist David Fitzgerald to use this song.
Song Title - Let your living water flow - David Fitzgerald.
Please note, all photos, text and music are used for training and educational purposes only.  
Copyright Disclaimer Under Section 107 of the Copyright Act 1976, allowance is made for "fair use" for purposes such as criticism, comment, news reporting, teaching, scholarship, and research. Fair use is a use permitted by copyright statute that might otherwise be infringing. Non-profit, educational or personal use tips the balance in favour of fair use.