A Song for Brenda - Video
Brenda was the first person to allow...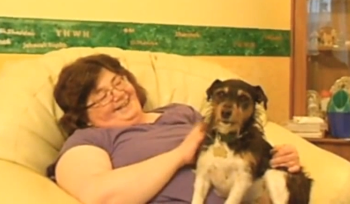 ...me to use her walls for the purpose of evangelising.  The Lord bless me with the idea and Brenda blessed me with her friendship.  I've gotten to know Brenda better as time goes by and am learning to see people as the the Lord Jesus Christ sees people.  Brenda goes out of her way to organize community events.  She helps her neighbours with all sorts of issues and regularly attends church and I've only known her for 3 years.  Brenda does all of this out of love for Jesus Christ. Brenda does all of this with Multiple Sclerosis.
Brenda mentioned to me that she was a bit self conscious about her appearance on video.  To that end I wanted to share with her how she looks to God Almighty.  Brenda you are a brave, strong, woman with a heart to big for the tiny frame you carry it around in. With a heart that size you are a giant in the the sight of God.  The compassionate care you have for those who come to you for help is of an exceptional quality. I know of few people who will go to the lengths you do for a friendship.  One person comes to mind though and He loves you dearly.  Jesus Christ.
God Blessed you Brenda Jones.  God Blessed your Heart!!!
Should anyone have a copyright issue, they may refer to the fair use policy of copyright and look under "News Reporting".  I am spreading the good news of Jesus Christ my saviour.  It is at the end of this video.  Jesus has saved me from drug addiction, alcoholism, slavery to the flesh, schizophrenia, occultism, and crime. Saved and transformed.  That's  good news.
Please note, all photos, text and music are used for training and educational purposes only.  
Copyright Disclaimer Under Section 107 of the Copyright Act 1976, allowance is made for "fair use" for purposes such as criticism, comment, news reporting, teaching, scholarship, and research. Fair use is a use permitted by copyright statute that might otherwise be infringing. Non-profit, educational or personal use tips the balance in favour of fair use.