Caulk is great way of filling small gaps and crevices.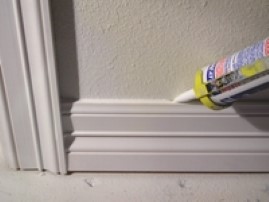 A waterproof filler and sealer, caulk is used in cracks and gaps.  A mastic gun is usually used to apply a caulk; simply put a mastic gun is a cage designed to hold and push any materials through a tube.  When dry, mastic or acrylic caulk feels a bit like rubber.
A mastic gun is easy to use, but if it isn't applied correctly, can appear unsightly when dry.  In order to caulk correctly, the bead of applied caulk must be wiped off with a wet finger, afterwards any extra caulk can be removed with a filling knife.  Any remaining material can then be wet sponged or wet wiped off. 
Please note, all photos and text are used for training and educational purposes only.  
Copyright Disclaimer Under Section 107 of the Copyright Act 1976, allowance is made for "fair use" for purposes such as criticism, comment, news reporting, teaching, scholarship, and research. Fair use is a use permitted by copyright statute that might otherwise be infringing. Non-profit, educational or personal use tips the balance in favour of fair use.