It is very important to remove and treat any mould with an appropriate mould killer.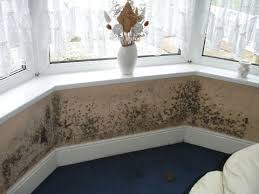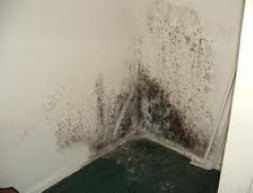 A furry growth of micro-organisms, mould ( a fungus ), often grows in warm moist conditions.  All traces of mould must be removed if it is found during surface preparation.  The mould can quickly re-establish itself beneath a surface coating if it is not completely removed, which can then lead to an early failure of that coating.
Follow this procedure to remove mould growth:
To remove the possibility of spreading the mould to other areas the mould will first need to be made wet.  Simply use a spray bottle with water or a spray bottle with a mould killing fungicide.
Use a scraper or wire brush to remove any heavy patches.
Apply a fungicidal wash to the damaged areas and let it dry.
If possible, the affected area should be left for a week or so and re-treated if the mould reappears.                    
Because the fungicidal wash has a residual effect on the surface, meaning the traces of it remain, it will continually remove mould growth from the surface, sometimes for many years.
Please note, all photos and text are used for training and educational purposes only.  
Copyright Disclaimer Under Section 107 of the Copyright Act 1976, allowance is made for "fair use" for purposes such as criticism, comment, news reporting, teaching, scholarship, and research. Fair use is a use permitted by copyright statute that might otherwise be infringing. Non-profit, educational or personal use tips the balance in favour of fair use.