Plaster board is a very easy and light material to work with, easy to repair and cut to size, you will find it will accommodate most of your needs.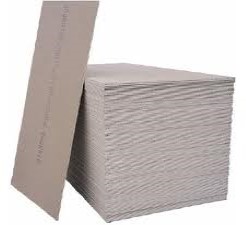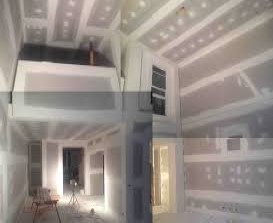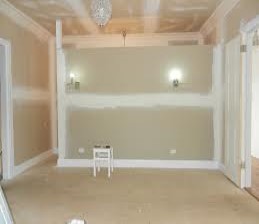 Dry lining and plaster board are other types of surfaces.   Square - and feather-edge, dry lining is where dividing walls within a building are made of plaster boards which are attached to two timber structures ( stud walls )  and taped up.  Sealed with joint tape ( an adhesive tape used in plastering ) the joints of the two boards are then plastered over to give an even finish.   Taped up with reinforced joining tape, the same style is applied to corners of walls, then plastered over at the taped point.
Plasterboard is plaster  between two boards ( thick lining paper ) and is used for interior partition walls and ceilings.  The lining papers will soak up moisture.   Before applying surface coverings such as wallpaper,  apply hard waterproof coating to the plasterboard, paper will not bond with the plasterboard surface and the plasterboard will not be damaged in subsequent future paper removals.
Sometimes the taped joint comes apart or has not been completely sealed.  To fix this issue you would have to re-apply the tape and then re-plaster the small area affected.  ( major defects may have to be redone by a professional ).  This now allows you to complete the finish by adding either an eggshell or an emulsion coating.
"Popping" is another known plaster board defect.  The plaster separates away from the plaster nail heads because of movement.  To fix this you will need to scrape the dry dust off,  spot prime the nail head, and apply the correct filling agent so that it is "proud" ( overfilling the holes so that the filler is visible above the repaired area and not flush to the surface when wet as it will sink).  Next, sand down the filler so it is flush to the surface and apply a mist coat ( a paint coating thinned down with water from 10 to 50%). I tend to use about 10-30%.  If a hole or a crack on a surface shrinks it will need filling all over again.
Please note, all photos and text are used for training and educational purposes only.  
Copyright Disclaimer Under Section 107 of the Copyright Act 1976, allowance is made for "fair use" for purposes such as criticism, comment, news reporting, teaching, scholarship, and research. Fair use is a use permitted by copyright statute that might otherwise be infringing. Non-profit, educational or personal use tips the balance in favour of fair use.