The three primary colours are red, blue and yellow.  Primary colours are pure and cannot be created from any other colours, but by blending these three colours you can create all the colours of the colour spectrum.
The three secondary colours are green, orange, purple.  Created by mixing two primary colours together:  two primary colours are used to create a secondary colour which will be the closest to it on the colour wheel.  To beget green, you would mix yellow and blue together; to generate orange, you would mix red and yellow as a combination; to initiate purple, you would mix blue and red with one another.
To get a tertiary colour; you have to combine a primary colour with a secondary colour at a ratio of 2:1.
The twelve fundamental hues are red, red-orange, orange, orange-yellow, yellow, yellow-green, green, green-blue, blue, blue violet, violet, red-violet.  This circle allows the user to picture the arrangement of colour and harmony.  Constructed in an orderly advancement, the colour wheel represents the range of visible light - the twelve basic hues - formed into a circle. 
Each individual hue is set at a level of full saturation or brightness on the main part of the colour wheel,.  There is no black (shade ) or white ( tint) supplemental, but when a black or white is supplied to a hue, the colour has lightness or darkness, called value.  To show value, the colour wheel has more rings, which represent the light tints which can be seen in the colour wheel below to the right.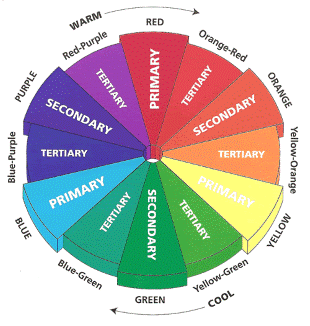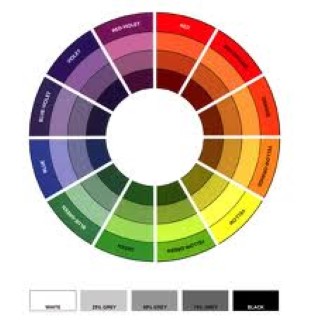 You can see for yourself no one colour stands alone on a  colour wheel: a segment of colour is always seen in context of other colours.  The impact of a colour is decided by the light reflected from it, the colours around it and the perspective of the person looking at it.  No one colour is "good" or "bad" - it is just one part of a grouping that, as a whole, is pleasing or not to one or more individuals.
Please note, all photos and text are used for training and educational purposes only.  
Copyright Disclaimer Under Section 107 of the Copyright Act 1976, allowance is made for "fair use" for purposes such as criticism, comment, news reporting, teaching, scholarship, and research. Fair use is a use permitted by copyright statute that might otherwise be infringing. Non-profit, educational or personal use tips the balance in favour of fair use.