Efflorescence is the result of dissolved lime which creates a calcium hydroxide which turns into a calcium carbonate.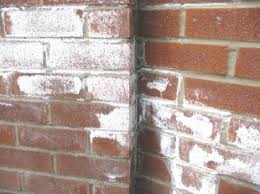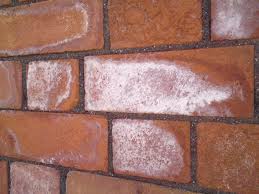 The signs of efflorescence are white patches on cement-based surfaces and can occur on brickwork, blockwork, rendering and internal plaster.  This is because cement is porous and moisture, such as condensation,  can ingress cement, dissolve some of the lime and create calcium hydroxide.   When the cement dries out, the calcium hydroxide rises to the surface and, once all the moisture has disappeared, calcium carbonate appears on the surface as the white patch we see in the figures above.
Efflorescence will eventually disappear on its own but, if a substrate is to be re-decorated, any efflorescence will have to be removed during preparation. The treatment for surfaces affected by efflorescence is removal by scrubbing with a stiff fibre brush.  Don't try and get rid of efflorescence by washing the substrate, as the calcium carbonate will simply dissolve in the water and sink back into the cement.
Please note, all photos and text are used for training and educational purposes only.  
Copyright Disclaimer Under Section 107 of the Copyright Act 1976, allowance is made for "fair use" for purposes such as criticism, comment, news reporting, teaching, scholarship, and research. Fair use is a use permitted by copyright statute that might otherwise be infringing. Non-profit, educational or personal use tips the balance in favour of fair use.