Bonded asbestos was commonly used from the 1950's to 1980's and needs to be recognized and handled accordingly.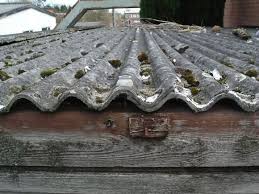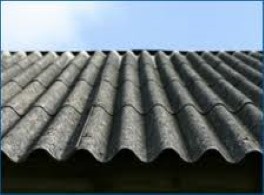 Corrugated Roofing
This material was used as  a form of insulating material,  especially from the mid-1950s to the mid-1980s. , When asbestos was breathed into the lungs, it can cause lung cancer and a disease called asbestosis.  These diseases is lethal and subsequently since 1999 it has been illegal to use asbestos in construction, except for some very exceptional reasons.
Asbestos was bonded in cement and it usually comes in corrugated sheet form, hence the name, "Bonded Asbestos"  It was commonly used for garage and shed roofs as well as pipes and guttering.  Though it is not thought to present serious risks to health, it should still be handled with care.  Never use any dry abrading methods - instead, if you have to abrade this material, remove the mould or dirt, and always use a wet abrasion method.  This will eliminate the risk of contaminating the air you breath.
Any site must be inspected for asbestos before any works can commence.  However if you think you have discovered the fibrous form of asbestos, stop work immediately and notify the appropriate authorities.  If, after testing, it is revealed to be asbestos,  specially trained teams will then be brought in to deal with its removal or stabilization.  No-one can work with asbestos unless they hold a special license issued by the Health and Safety Executive.  Remember, be alert - what you do now could seriously affect your health in years to come.
Please note, all photos and text are used for training and educational purposes only.  
Copyright Disclaimer Under Section 107 of the Copyright Act 1976, allowance is made for "fair use" for purposes such as criticism, comment, news reporting, teaching, scholarship, and research. Fair use is a use permitted by copyright statute that might otherwise be infringing. Non-profit, educational or personal use tips the balance in favour of fair use.