Patience Phase 1 Video
Patience was the blessing I needed to complete...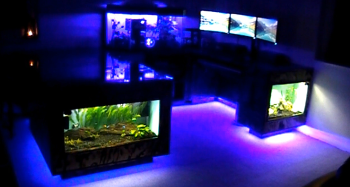 ... this project.  Initially the plan was to create a desk where  I could utilize my music keyboard more often as it was gathering dust in my closet.  In the video I'm singing and playing the keyboard,  I know I don't have a great voice or play particularly well, but God loves it and that's all the encouragement I need.  In fact he loves it so much he just kept on blessing me by way of creative ideas.  What you see of the finished project is 2 fish tanks incorporated into the desk as well as my computer system redesigned to fit into a fish tank.  This way the continuity is maintained and the theme works well.  This is phase 1 of a 3 phase living room project.  Yet to come are the wall and ceiling murals and the hide away bed.  
Thanks for watching and God Bless.  
Please note, all photos, text and music are used for training and educational purposes only.  
Copyright Disclaimer Under Section 107 of the Copyright Act 1976, allowance is made for "fair use" for purposes such as criticism, comment, news reporting, teaching, scholarship, and research. Fair use is a use permitted by copyright statute that might otherwise be infringing. Non-profit, educational or personal use tips the balance in favour of fair use.